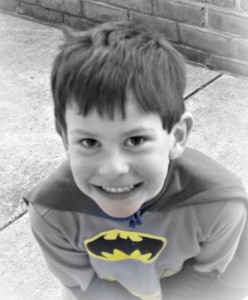 Dear SuperSam,
We've never met. But I know all about you because your mommy (Ima on the Bima) and my mommy (Frume Sarah) are friends. According to legend, my mommy was standing in the back of a session at the URJ Biennial in 2007 because I was getting too kvetchy to stay in the audience. It was like one of those moments in a movie when two people see each other across a crowded room and something magical happens. I don't know who saw whom first…but it was love at first sight. They often describe themselves as kindred spirits — whatever that means.
My mommy told me that you are a superhero. That is so cool because I am a superhero too. Well, not yet. But when I grow up, the Batman who is in the Batman suit will be ready to retire and then I can be Batman. That's how the origin story goes. Did you know that? But you are already a superhero, my mommy says. Because you are already fighting bad guys. I think you are so cool. I say your name now before the Sh'ma at night and am sending you a picture of me in my Batman suit. My mommy told me that lots of people all over the whole entire world are sending you superhero pictures so I wanted to send one too. And she's going to tell all of her friends about it too.
Anyway, keep fighting the bad guys.
Your new friend,
Jacob
*****************************
It's true! You can participate in the Superheroes for Sam: A Photo Project. What an easy way to let a sweet little boy and his family know that people all over the world are thinking of them, praying for them, and cheering for them. Won't you join me?