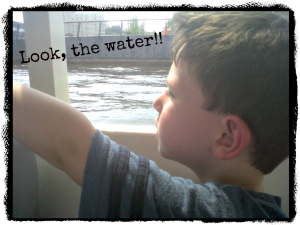 Having entered the month of July, it occurred to me that summer is going to keep right on moving. And I refuse to get to the end of summer without having had some adventures. (My actual list can be found here.) So with an entire weekend in front of us, we headed to Philadelphia to catch some sight.
Being first-timers*, we** thought that we should do something incredibly touristy. Like one of those city-tours. Since we had the kids in tow, the best option for the hottest day of the summer (so far) was the Ride the Ducks tour. Which, in true Schorr fashion, was easier said than done.
Figuring that everything is easier when done online and ahead of time, I purchased tickets for the 2:00pm tour. It was a car ride that ought to have taken no more than one hour and twenty-three minutes. We left by 11:20am. At 1:30pm. when it became clear that we were NOT going to be on time, Ms.M got on the phone. Thanks to a vehicle fire — on the other side of the Turnpike, mind you — and construction, our trip took far longer than it ought to have. It took no less than six different phone calls, over the course of thirty-seven minutes, for us to finally reach someone authorized to change our reservation to the 3:00pm tour. Meaning that we were still in the car and on the phone at the time that our original tour was leaving. And one of the "helpful" operators was still saying something about "if you miss your tour."
Did I mention that it was 101F in Center City? And that the sweat was quite actually dripping down us. And that the littles were giving the Israelites a run for their money in the complaint department??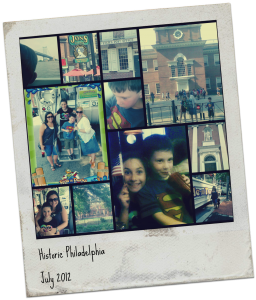 But at 3:07pm, when we finally were welcomed aboard, it was apparent that we had made a wise choice. The opportunity to ride through the streets of Historic Philadelphia and get a sense of what life must have been like during Colonial times was exciting. And interesting. And breezy, thanks to the lack of windows on our vehicle! And then, to the children's delight, we drove right into the Delaware River.
It was a long drive. And a long day. We ended the day's adventure at Dave and Buster's. Which the kids thoroughly enjoyed…until the end, of course. When Jacob discovered that three hundred seventy five tickets might seem like a lot. Unless one is hoping for some toy that is seventy-five HUNDRED tickets.
That can't be right. Because no one can earn that many tickets.
Oh, it's right, my little love. And that's the point.
To be continued…
~~~~~~~~~~~~~~~~~~~~~~~~~~~~~~~~~~~~~~~~~~~~~~
*I was in Philly earlier this year, but only to attend a lecture at the National Museum of American Jewish History.
**We, in this case, would be me and our amazing mother's helper/borrowed daughter, Ms.M.