Confession: I broke Shabbat. I couldn't stop checking to see the latest on the matzav in Israel. On the one hand, the constant worry was ruining my Shabbat anyway. On the other hand, keeping up-to-date didn't do much to preserve the Shabbos peace.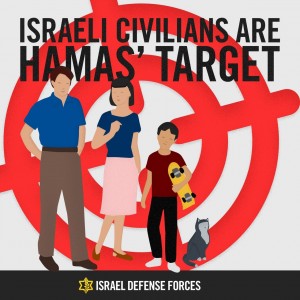 So…a few thoughts.
My dad was on a conference call with Consul General on Friday morning. "Learned that Iron Dome defense system IS effective. While the news reports state that Iron Dome has intercepted only about 1/3 of the missiles, the Consul General pointed out that radar determines which missiles are headed for population areas and which are headed for open fields. The system is aimed at the former and has effectively stopped 90% of those." My math isn't good — but even I understand that this is a good thing.
[Anyone else love that the Iron Dome is known as the Iron Kippah in Israel??]
~~~~~~~~~~~~~~~~~~
The Western media continues to be so radically biased against Israel that I am beginning to think that I can't trust anything they say. Just a few examples can be found here:
Plenty of other examples…these were just the first ones to come to mind.
~~~~~~~~~~~~~~~~~~~
Israel has suffered fewer human losses than on the Palestinian side.
ANY loss is a tragedy.
But the fact that there have been more deaths in Gaza is not because Israel's response has been "disproportionate." Rather, it might have something more to do with Hamas's approach to warfare:
Hamas MP Fathi Hammad: We Used Women and Children as Human Shields
~~~~~~~~~~~~~~~~~~~~
And finally, no matter what we must do to defend ourselves, we are Jews first. And as Jews, we respect and protect life. Which is why Israel opened the Kerem Shalom border in order to transfer humanitarian aid to the citizens of Gaza.
~~~~~~~~~~~~~~~~~~~~
Inform yourselves, spread the facts, and pray for the peace of Jerusalem and the entire region.