Sometimes fear or anxiety can prevent one from seeing alternatives.
[Some context: Lisa Alcalay King wrote a new book, Hot Mamalah. I think that Lisa, who I know in cyberspace, is really terrific. She is knowledgeable and a committed Jew. So I jumped at the chance to review her new book and participate in her blog tour. Except…I didn't like the book.]
I wrote to Lisa and explained my dilemma.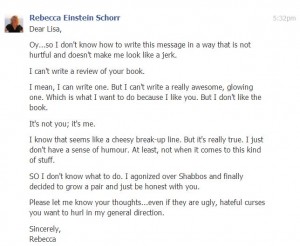 She was super-duper gracious and gave me the OK to pass on the whole thing.
The end.
Except…it's not really the end. Because my Facebook exchange with the über-gracious Lisa led me to thinking. For several hours last night.
There is nothing wrong with the book. The author clearly put a tremendous amount of research, time, and soul into her work. Just because it doesn't appeal to me doesn't decrease its value.
One of the issues I have with the book is that it relies on Jewish stereotypes more than my comfort level can handle. Additionally, I don't do kitsch well. And my sense-of-humour barely registers on the Multidimensional Sense of Humor Scale (MSHS). I tend to be too serious and have difficulty loosening up when it comes to something about which I feel passionate. Which, according to Warren, is almost everything.
But then I started thinking about my Facebook friends. Specifically, my Jewish, non-professional, female Facebook friends. And that's when it dawned on me; Hot Mamalah wasn't written for me. It was written for them. For more-laid back, less-uptight, cooler Jewesses whose panties don't get twisted at the mere suggestion of a less-than-reverent approach to their Judaism. Their Judaism. Not my Judaism. But theirs.
And it was that epiphany — around 2:47am this morning — that led me to reconsider.
So here is my endorsement: Hot Mamalah is a fun, irreverent look at the myriad ways for the modern Jewess to understand what makes her special. And neurotic. And funky. And fabulous. It is NOT for the uptight, rigid, narrow-minded, uncool.
In other words, it's a fun book. But not for me.
~~~~~~~~~~~~~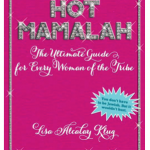 Chance to win your OWN copy and much, much more!!!
There's a super-fabulous giveaway over at Modern Tribe. The Hot Mamalah gift package is valued at $300. Giveaway ends on December 3rd so do not tarry.