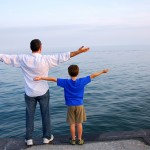 Parenting, I have discovered, is full of moments. Fun moments. Sad moments. Challenging moments. And even boring moments (think: reading some mind-numbing tale about a mischievous, whiny character…for the nine-hundredth twenty-second time).
And then there are the moments that you know — you just know — have the power to shape who your children will become.
This was one of those moments.