Is she…or isn't she?
That had long been the question running through my mind whenever I've caught an episode of The Barefoot Contessa. Is Ina Garten Jewish?
The answer…is…yes. Yes, Ina Garten is, as it states on Wikipedia, "Jewish by birth and heritage…but rarely refers to her religion and ethnicity." She has, on occasion, highlighted some traditional Jewish food. And I was excited to turn on the episode, "Back to Brooklyn," while huffing and puffing away on my new treadmill.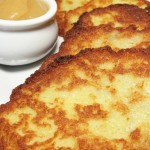 It's a trip down memory lane for Ina and Jeffrey with a day trip to Brooklyn visiting places old and new. The day kicks off with a fabulous breakfast, then armed with a packed lunch it's off to Brooklyn for a culinary tour including a visit to the best pizza place in Brooklyn, Franny's Pizzeria, and then it's back to East Hampton for a retro nightcap.

Recipes in This Episode
Homemade Applesauce
New York Egg Cream
Clams, Chilies, and Parsley Pizza
Potato Latkes
Smoked Salmon and Herb Cream Cheese Bagels
OK — I don't expect Jewish chefs to adhere to the laws of kashrut. But this line-up reminds me of a certain Sesame Street oldie-but-goodie:
I mean…couldn't Ina come up with some other food to introduce on her tour back to Brooklyn?? Did she have to include one with shellfish?
Not much mention was made about the Jewish-ness of the foods. I don't recall the word "latke" actually being used.
And one last thing nagged at me. Who brings a picnic TO Brooklyn??
**************
BTW, that applesauce looks fantastic. I am SO doing that this year.