So…last week, this article,The Sisterhood's Christian Bar Mitzvah: Can Jewish Ritual Be Borrowed?, was flying all about the internet, causing quite a bit of commotion among my colleagues. I read it with interest and, quite honestly, some amount of discomfort. Because at first glance, the idea of a non-Jew borrowing such a definitively Jewish ritual caused a near-paralyzing pain in my kishkes.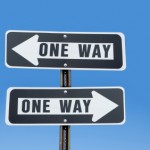 The motivation behind the article was a clip from the new TLC series, The Sisterhood, a reality show showcasing the lives of five pastors' wives in Atlanta. In the second episode, Pastors Brian and Tara Lewis reveal that they are "throwing him [their 13-year-old son] a Bar Mitzvah…a Christian Bar Mitzvah."
Rituals, throughout history, have been borrowed, shared, appropriated, reappropriated, co-opted, and just plain stolen from neighbouring cultures, faiths, and ethnicities. The idea of syncretism is, therefore, not a new one. Yet, when someone takes one of "our" rituals, it feels like a personal attack.
My experience with the Rabbis Without Borders program has had a profound influence on my ability to recognize the possibility of multiple truths in other faith communities. In other words, you don't have to be wrong for me to be right — an idea explored by my teacher, Rabbi Brad Hirschfield, in his book by the same name. Prior to my involvement in this cutting-edge think-tank, my views were far more narrow-minded and I lacked a framework in which I could understand much of the current American religious landscape. So while my initial reaction was a visceral one bordering on revulsion, my second reaction was far more reasoned.
The notion of marking the crucial point in a young person's life when he or she becomes responsible for his or her own religious decisions, beliefs, and behaviours is a wonderful thing. There is no reason why it ought not be universally celebrated in each and every culture and faith community. At age thirteen, or thereabouts, the critical thinking skills evolve to a much greater extent and the teen is beginning the long, though essential, process of establishing an identity separate from the parents. It is the terminology, however, that becomes problematic. To call something a "Bar Mitzvah" has certain societal implications; the first of which being that the individual is Jewish. And in the case of Pastor Brian and Tara Lewis's son, he isn't.
On Monday, I participated in a lively, if not frustrating, conversation about this very topic on Huffington Post Live. The panel included Pastors Brian and Tara Lewis, Dr. Julian Baggini (philosopher), Dr. Ron Lindsay (ethicist/secular humanist), and me.
If only we had been discussing the topic with which host, Josh Zepps, had led the program: the decision of which faith traditions to celebrate in marriages between faiths. That would have been an interesting and insightful dialogue. But Pastors Brian and Tara don't exactly consider themselves an interfaith marriage. They see themselves as "true Jews." They used their appearance as a platform for their own legitimacy and to witness to others with their understanding of Christianity.
So here is my question for you? What are your thoughts about a Christian Bar Mitzvah in the way I described? As a coming-of-age ritual meant to sanctify one's reaching the age of religious obligation?
Oh, and one final thing:
The cake doesn't have to be in the shape of a Torah.
The term 'bar mitzvah' is Aramaic, not Hebrew.
And for the record, Pastor Brian, one absolutely does give up being Jewish when accepting Jesus as the Messiah. That Jew is considered an apostate.