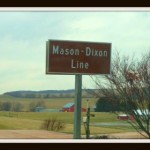 I drove past this sign on my way home from a rabbinic retreat. It completely hijacked the rest of my thoughts for the next twenty miles. My eyes searched the landscape, wondering how many had passed this very way, seeking asylum from oppression. I have some more thoughts about the Great Migration over at Rabbis Without Borders.
********************
The kids seem to think I'm no longer cool. AND that Warren is in charge. See why over at Kveller.
********************
For the fourth consecutive year, the Association of Jewish Libraries has arranged a blog tour to honor this year's Sydney Taylor Book Award winners. And for the fourth consecutive year, I am proud to be a stop along the tour. I encourage you to take some time next week and visit each of the sites. I promise that the information you glean will greatly enhance your reading experience.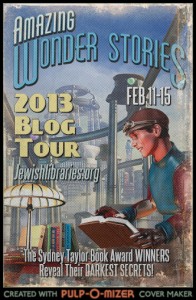 THE 2013 SYDNEY TAYLOR BOOK AWARD BLOG TOUR
MONDAY, FEBRUARY 11, 2013
Ann Redisch Stampler, author of The Wooden Sword
Sydney Taylor Honor Award winner in the Older Readers Category
At Shelf-Employed
Carol Liddiment, illustrator of The Wooden Sword
Sydney Taylor Honor Award winner in the Older Readers Category
At Ann Koffsky's Blog
Doreen Rappaport, author of Beyond Courage: The Untold Story of Jewish Resistance During the Holocaust
Sydney Taylor Honor Award in the Teen Readers Category
At Bildungsroman
TUESDAY, FEBRUARY 12, 2013
Linda Glaser, author of Hannah's Way
Sydney Taylor Book Award winner in the Younger Readers Category
At This Messy Life
Adam Gustavson, illustrator of Hannah's Way
Sydney Taylor Book Award winner in the Younger Readers Category
At Here in HP
Louise Borden, author of His Name was Raoul Wallenberg
Sydney Taylor Book Award winner in the Older Readers Category
At Randomly Reading
Deborah Heiligman, author of Intentions
Sydney Taylor Book Award winner in the Teen Readers Category
At The Fourth Musketeer
WEDNESDAY, FEBRUARY 13, 2013
Sheri Sinykin, author of Zayde Comes to Live
Sydney Taylor Honor Award in the Younger Readers Category
At Read, Write, Repeat
Kristina Swarner, illustrator of Zayde Comes to Live
Sydney Taylor Honor Award in the Younger Readers Category
At Reading and Writing
THURSDAY, FEBRUARY 14, 2013
Linda Leopold Strauss, author of The Elijah Door
Sydney Taylor Honor Award in the Older Younger Readers Category
At Pen and Prose
Alexi Natchev, illustrator of The Elijah Door
Sydney Taylor Honor Award in the Older Younger Readers Category
At Madelyn Rosenberg's Virtual Living Room
FRIDAY, FEBRUARY 15, 2013
Blog Tour Wrap-Up at The Whole Megillah