I love reading. I always have. And I love all kinds of books. But as a child, though my imagination was stuffed full of tales of the frontier (Little House on the Prairie) and life in the Maritime Provinces (Anne of Green Gables), there was a part of me that could be reached only by characters whose experiences more closely resembled my own. Which is why I've always held a special place in my heart for Sydney Taylor, Sadie Rose Weilerstein, and Judith Kerr for they created familiar worlds filled with foods, words, and people from my life.
How very much would I have loved to count Hannah's Way among the literary haunts of my youth. To enter into a world where living as a Jew sometimes meant being out-of-step with the social surroundings. And to meet a girl named Hannah.


I had the opportunity to chat with author, Linda Glaser, about her award-winning title, Hannah's Way. Join me for a behind-the-scenes peek into the Depression-era story of a young Jewish girl living on the Iron Range.
Your inspiration came from an exhibit you viewed nearly twenty years ago. What took so long?? And by that I mean, did Hannah's story need more time to percolate than other stories do?
Actually, I think that many books—including picture books percolate for a very long time. However, there's not usually as clear a "start date" as there is for Hannah's Way. The anecdote that I found at the exhibit was brief. I knew I needed to flesh out the story and create emotional tension and a series of obstacles for the main character. It took many tries and many years to find the right way—Hannah's Way.
You used the word 'Sabbath' rather than 'Shabbat' or 'Shabbos.' What was the reasoning behind the choice?
Although this is a Jewish story, I've always hoped it would reach a wider audience as well. So I chose a word that non-Jewish kids might also be familiar with.
Papa and Mama were particularly, and understandably, concerned with Hannah breaking Shabbat by riding in a car, but there was no mention of their concern over the food not being kosher. I wonder if you could talk about that decision.
To be honest, since I am not strictly Kosher, I hadn't thought about it. However, even if I had, I probably wouldn't have mentioned it. Hannah could have easily brought her own food. So from the standpoint of plot, it wouldn't have been a challenging obstacle to overcome. In a picture book you want to keep the focus on the important issue and not dilute it. For Hannah and for her story, her burning desire was to be at the picnic, to have the chance to make friends, and to feel a sense of belonging.
How did you decide which community Hannah and her family would live? The options must have been countless so what drew you to the Iron Ridge in particular? What kind of research goes into location selection?
As the story evolved, I realized that I wanted my main character to be "the new girl" in school who had come from Minneapolis where she'd had friends who were Jewish. I also needed her family to have a good reason to have moved from Minneapolis to the upper Midwest where they'd be so much more isolated. And I needed my character to be the only Jewish child in the area. With all these parameters, I contacted Joanne Sher, a Jewish genealogist extraordinaire who is an expert on the history of Jews in the Midwest.
By the way, when I was writing my middle grade novel Bridge to America, I had contacted her for historical accuracy as well and she was extremely helpful.
This time, I told her what I needed and she suggested that the time frame be the Depression and that Hannah's family move to the Iron Range. She said it was common at that time for a merchant to be the only Jew in town (Uncle Max) and for families to help each other out as Uncle Max did. With Joanne's expertise, I felt confident of the historical accuracy of the story. And, by the way, the illustrator Adam Gustavson took great pains with the authenticity of his illustrations as well. [Note: Read an interview with Adam Gustavson and another one here.]
Finally, why Hannah? Again, there were many names from which to choose? Do you have a strong connection to the name? Is there some hidden message in that name??
Over the years, as I wrote different versions of the story trying to find a way that worked, I eventually put it away in frustration and with some regret. I still loved the idea of the story but I had sort of given up. One day I told the story idea to my older daughter. She urged me to work on it more. She felt strongly that it was an important story that kids would love. With that encouragement, I went back to it and kept at it until I finally had a story I believed in. Somewhere along the way, I chose the name Hannah—a name that I like that felt "right."
My daughter's Hebrew name is Hannah Liba. I did not use that name consciously but, looking back, I'm pleased I named my character Hannah because my own "Hannah Liba" had believed in Hannah and made me believe in her strongly enough to put in the hard work of bringing her story to life.
And if there is anything else you think that we should know, please include that as well.
Clearly, Hannah's Way is a Jewish story. But I believe it's also a universal one—with themes that resonate deeply—feeling different, wanting friends, and longing to fit in.
Recently, I read Hannah's Way in an inner city school where none of the kids were Jewish. Yet they sat on the edge of their seats rooting for Hannah. For a "quiet" story read to a lively group, this amazed me. But when I thought about it, I realized that the emotions in the story are authentic, deep, basic ones that all kids can relate to and feel strongly about.
This is a story about staying true to one's traditions but still wanting to "belong." It's also a story about ordinary children who, through a simple act of kindness, become heroes. I hope that with the help of the Sydney Taylor Award, Hannah's Way will reach many more kids and will do its small part to encourage tolerance, acceptance, and kindness.
Thank you so much, Linda, for taking the time to talk about your book. Mazal tov on being named the Sydney Taylor Book Award winner in the Younger Readers Category!!!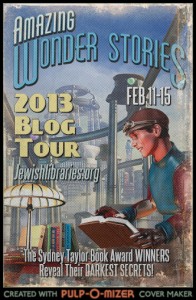 THE 2013 SYDNEY TAYLOR BOOK AWARD BLOG TOUR
MONDAY, FEBRUARY 11, 2013
Ann Redisch Stampler, author of The Wooden Sword
Sydney Taylor Honor Award winner in the Older Readers Category
At Shelf-Employed
Carol Liddiment, illustrator of The Wooden Sword
Sydney Taylor Honor Award winner in the Older Readers Category
At Ann Koffsky's Blog
Doreen Rappaport, author of Beyond Courage: The Untold Story of Jewish Resistance During the Holocaust
Sydney Taylor Honor Award in the Teen Readers Category
At Bildungsroman
TUESDAY, FEBRUARY 12, 2013
Linda Glaser, author of Hannah's Way
Sydney Taylor Book Award winner in the Younger Readers Category
At This Messy Life
Adam Gustavson, illustrator of Hannah's Way
Sydney Taylor Book Award winner in the Younger Readers Category
At Here in HP
Louise Borden, author of His Name was Raoul Wallenberg
Sydney Taylor Book Award winner in the Older Readers Category
At Randomly Reading
Deborah Heiligman, author of Intentions
Sydney Taylor Book Award winner in the Teen Readers Category
At The Fourth Musketeer
WEDNESDAY, FEBRUARY 13, 2013
Sheri Sinykin, author of Zayde Comes to Live
Sydney Taylor Honor Award in the Younger Readers Category
At Read, Write, Repeat
Kristina Swarner, illustrator of Zayde Comes to Live
Sydney Taylor Honor Award in the Younger Readers Category
At Reading and Writing
THURSDAY, FEBRUARY 14, 2013
Linda Leopold Strauss, author of The Elijah Door
Sydney Taylor Honor Award in the Older Younger Readers Category
At Pen and Prose
Alexi Natchev, illustrator of The Elijah Door
Sydney Taylor Honor Award in the Older Younger Readers Category
At Madelyn Rosenberg's Virtual Living Room
FRIDAY, FEBRUARY 15, 2013
Blog Tour Wrap-Up at The Whole Megillah