This is what I've been up to since the last time I posted:
A new medical study confirming the lack of evidence tying vaccines to autism inspired me to share my own experience: Parents, Consumed With The 'What Ifs'
The stunning news that Pastor Rick Warren's son, Matthew, suicided caused people to wonder how different faith communities regard someone who has taken his own life. I shared a Jewish perspective over at Huffington Post Live: Matthew Warren's Suicide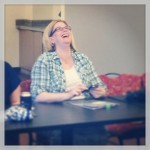 If the table read was any indication, this year's Listen To Your Mother (Wilmington) is going to be fantastic.
Threw a jammie-jumping party for the six-year-old.
Preparing for family and friends to arrive for this weekend's simcha with joy and a tinge of sadness in A Different Kind Of Bar Mitzvah: Walking For Autism
***
After the Bar Mitzvah, b'li neder, I'll be back on a more regular basis.