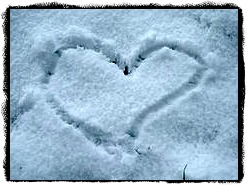 On average, the human heart weighs between nine and twelve ounces.
Less than a pound.
A hollow muscle.
But I defy any expert who disagrees that a heart can equal the weight of the observable universe.
Or falter from the suffocating pressure of a vise.
Or shatter into innumerable shards.
Or be uplifted on a melody.
Or sheltered by the love of thousands.
There was no need to look for You.
You sat among us, weeping.
You accompanied us to the grave.
You blanketed the earth with shimmering, sparkly snow.
You supported our hands as we tucked in Sammy for his eternal rest.
And You, the Healer of the Broken-Hearted, cast a me into a dreamless-slumber.
Enfolding me into the downy comfort of Your Protection.
Wiping my tears as I slept.