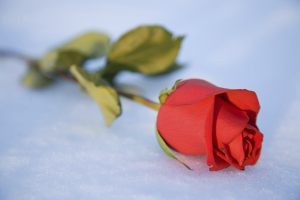 I don't usually cry about the difficulties of rearing a child with special needs. Not because I don't feel the sadness. But because I've steeled myself against it. And because I'm afraid that once I start, it will be too difficult to stem the flow.
But tonight, I am crying.
I am crying for my son, my sweet son, whose anxiety so often gets the best of him. And who lacks the protective armour necessary to survive the barbs, comments, and criticisms of the real world.
Tonight was meant to be his first high school choir concert. Instead, it was just another reminder that other kids can be cruel.
Ben has always loved music. From an early age, he could match pitch, memorize lyrics, and repeat melodies after the first hearing. But his fear of being the center of attention prevented his participation in choir.
Until this year.
Both Warren and I spent our high school years in the choir room. Our children have heard miles of stories about our choral experiences and, though we never pressured them to join choir, both Warren and I were excited to have our firstborn follow in our footsteps.
Plus, we both knew, from personal experience, that choir was an accepting place, and that Ben might finally find a place of belonging.
Ben has been fretting (his word) for days. As he always is before any anxiety-producing experience.
The required concert attire was enough to send him into fits of emotional dysregulation. But he did it. He did it. He put on the button-down shirt. And the dress pants. The black socks (he only wears white socks) and the black dress shoes.
Unbeknownst to me, he watched videos about ways to tuck in a dress shirt.
And it was all for naught.
Because I didn't plan ahead.
I didn't anticipate the stumbling blocks.
I didn't remember the flowers. (Gratuitous Ice Castles reference.)
I never thought to ask if his one-on-one aide would be there. After all, it was a course-required activity and I assumed…
I never thought to ask if there would be adult supervision at all times. After all, it was a school activity and I assumed…
Yes, I know what they say about assuming.
So without an aide to guide him through the social landscape and without an adult keeping the kids in line before the concert, Ben was without a safety net. An unkind comment from another kid and that was it. Ben left. In tears.
Now he sleeps.
And I am left crying.