I've been the mother of a child with special needs for nearly fourteen-and-a-half-years. Which kind of makes me an expert.
Or so I thought.
Recently, I was reminded of what happens when I don't take the time to step back and better anticipate what can be done to make Ben's life easier. For that experience to have meaning, I cannot simply sweep it aside with "well no one can anticipate everything" or "it was really the school's responsibility to (fill-in-the-blank)." Jewish Tradition teaches that we must get in-between the black spaces and the white spaces in order to wrestle with the text and emerge with a better, and deeper, understanding. So too do we approach life.
Chanukah, while deeply loved by my kids, also present some challenges for Ben. Late nights. The anticipation of the gifts. The disappointment of opening a gift that wasn't what he wanted. Frustration over the dreidel game. The smell of the latkes. And the list goes on.
I can't change most of what makes this week hard for Ben. Yes, I can try to make Chanukah happen early enough for Ben, whose circadian rhythm shuts down around 6:00pm during Standard Time. I can frontload him in order to minimize his disappointment and, God-willing, avoid any resulting melt-downs. But those are coping mechanisms and strategies.
What if I approach Chanukah from his perspective? Or what Dr. Carla Naumburg, in Parenting in the Present Moment, calls "attunement."
The smell of the latkes frying in the oil literally makes Ben sick to his stomach.
Insisting that our Chanukah celebration will be incomplete without latkes, as I have done every year, does not validate his very real sensations.
In fact, it probably reinforces his feelings of inadequacy.
I had been looking forward, this year, to trying all sorts of new latke recipes. "One for each night…"
Until I realized, thanks to Dr. Naumburg, that Ben needs something different from me.
Lilly and Jacob have their right to having a positive Chanukah experience, replete with gifts, dreidels, and latkes.
And so does Ben.
Shifting my approach will allow me to create better, and more positive, Jewish memories for all of my children.
(Warren, good man that he is, says he doesn't care how I make them because "everything you make is delicious.")
So yes, we are still having latkes this year.
But oven-baked. And made on the waffle-griddle.
The miracle of the oil will be retold and memorialized in other ways.
Bonus: Some really terrific strategies for families with kids who experience the world differently.
************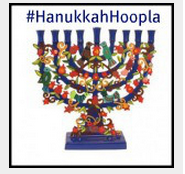 I'm participating in a #HanukkahHoopla with 7 other Jewish bloggers. In the spirit of the season, we're giving 8 gifts to 8 lucky commenters.
I'm giving away a copy of Carla Naumburg's Parenting in the Present Moment and a copy of my CD, Soul's Delight.
You can comment on my blog or any of the #HanukkahHoopla blogs all the way until the end of the 2014. Click on the menorah to be magically transported to the schedule where you'll find links to visit other fabulous writers and increase your chances of winning holiday cyber-swag!
If you respond on my blog, answer this to win:
What is one thing you can do to stay "attuned" to your kids?
Winners will be selected randomly. The giveaway will end on December 31st, 2014.
Disclosure: I was not compensated to participate in this campaign. I have provided this FABULOUS prize to celebrate #HanukkahHoopla.