Just because I took a hiatus from the blog does not mean that I stopped reading.
***
There is no lack of parenting books available to the modern parent. But once you get down the basics such as feeding, clothing, and caring for your baby, the hard part begins. How to rear a child with a moral framework? How to infuse your child's daily life with meaning? And, if it is important to your family, how to create a home filled with a connection to God and religion?
As I wrote in my blurb for Jewish Spiritual Parenting: Wisdom, Activities, Rituals and Prayers for Raising Children with Spiritual Balance and Emotional Wholeness, this is the book that I wish I could have written. Authors Michelle November, MSSW, and Rabbi Paul Kipnes bring their decades of professional and personal experience to the table, providing the reader with insight as well as practical application. Though they are coming from a Jewish perspective, there is much here for parents of any religion to glean.
Since I know both of the authors, I grabbed the opportunity to ask them some questions about the process of writing this book.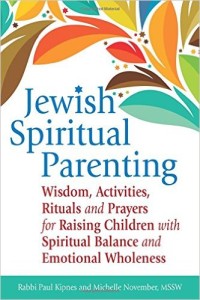 Whose idea was the book? And was the original idea always to co-write it?
What was the process of co-writing like for both of you?
Paul has been blogging for almost a decade, most recently at www.paulkipnes.com. On the basis of the blogging, the publisher of Jewish Lights Publishing, Stuart Matlins, approached Paul at a URJ Biennial in 2013 to write a book. Since Paul and Michelle had been speaking about raising resilient, Jewishly-connected kids for our Center for Jewish Parenting, and since he just published an article in the Jewish Journal on this same topic, it was natural to write about Jewish Parenting.
Also, we raised our three children together so it was natural to write together about raising the kids. Plus, Michelle has been editing Paul's sermons and articles for years, so we had already built up a writing partnership.
Still, like with parenting in partnership, writing as partners required that we affirm that each of us has unique wisdom to share, that where our visions diverge each speaks important truths nonetheless, and that our book – like our babies – would benefit from the insights of both of us. We pushed each other toward clarity and challenged each other to universalize our messages to reach all kinds of readers.
Some sections are clearly written by one or the other because it's notated in the heading. But what about the other parts? How did you divvy them up?
We wrote the first drafts of chapters while taking long drives in California and sitting in our cabin at URJ Camp Newman. [Ed.note: both Paul and Michelle serve as faculty at Camp Newman for a few weeks each summer.] It's an iPhone book. Really.
For most of the book, we would take long drives along the coast of California, and up near Camp Newman in Sonoma County, and talk together. Paul would tap out our ideas on an iPhone. He would then transfer and edit it on a computer, and then Michelle would engage in some serious editing. Then we would go back and forth on computer to edit it. At this point, we each have participated in shaping each sentence in the book that we cannot determine who wrote which words. Of course, if we think about our kids, we realize that we each had so much overlapping input into raising them that it is difficult to point out who nurtured this part and who that.

What about the kids? Obviously, as RKs, Rachel, Daniel, and Noah have been great fodder. But it's an entirely different story to have their lives appear in a book. Did you give them first right of refusal? Or did they just give you guys carte blanche?
Central to our commitment to mishpacha, the Jewish value of family, is our commitment to honor the uniqueness and privacy of each of our children. We were challenged to ensure that we introduce our children to our readers as multifaceted individuals. Pre-publication, we sent each of our kids a draft for their review and critique. We are pleased that the book has their blessing.
Additionally the absolute last thing that we did before pushing the "send" button with the final manuscript was to count the number of times each child's name was mentioned. While the types of stories vary from child to child, on the whole they each receive their equal share of mentions in the book.
Your book weaves together wisdom, rituals and prayers, as well as Jewish values, personal stories and "Try This" activities. How did you come to include each component?
Jewish spiritual parenting acknowledges that just like the four children of Passover, each of us – including those raising children and the children themselves – learns in unique ways. Some of us learn from examples, others from intellectual engagement with ideas, and still others by practicing skills toward mastery. We honor each of these learning styles (and others) by including these and other learning modalities within the book.
From the introduction: Featured within each chapter are "Try This" activities designed to help you practice Jewish spiritual Try This parenting. Since Judaism, a religion of practices and
rituals, teaches by doing, we provide a multiplicity of conversations, activities, and blessings for families to experiment with and consider. Some activities are parent-focused, inviting adults to explore their own ideas, behaviors, beliefs, and upbringing. Others are intended to be practiced with their children. The activities also lend themselves to use by professionals to guide Jewish parental growth.
In Jewish Spiritual Parenting we affirm all parents, recognizing that family structures are diverse. Each distinct parenting model brings both challenges and opportunities. We write for all who are raising children, whether on their own or in a marriage or partnership. These children might be your biological children, your partner's children, or adopted. You may be biological or adoptive parents sharing responsibilities with stepparents. As single parents — raising a child yourself by choice, divorce, death, or some other reason — some of you are doing the parenting alone; others have the help of an ex- spouse or ex-partner, a significant other, or a grandparent. Some of you are grandparents, foster parents, or relatives of children for whom you are de facto parents. Whenever we speak about "parents" and "parenting," we have each of you in mind.
Some families include one Jewish parent; others two or more. We acknowledge the reality that often the non-Jewish spouse is responsible for creating a Jewish spiritual home life. Some Jewish families are also multicultural or multiracial; some include a mix of parents and/or children who are gay, lesbian, transgender, bisexual, or questioning. We honor the many kinds of families in which children are being raised.
Also, we are especially proud that our book has been praised by Jay Ruderman of the Ruderman Family Foundation for its sense of inclusion.
Our title: Jewish Spiritual Parenting
Jewish means that we write for Jews, Jewish families, people raising Jewish kids, people working with Jewish parents, and anyone who wants to understand how Jewish values can guide parenting.
Spiritual means that our lives are connected to something deeper, higher, and more real than we might ever have imagined. One rabbi teaches that Jewish spirituality is "a matter of seeing the holy in the everyday, and invites us to wake up and open our eyes to the holy things happening all around us every day." Being spiritual means living a life that is connected more deeply to everything else, being grateful and compassionate, and opening our eyes to the blessings around us.
Parenting is a process of intentionally acting to nurture and raise children with a certain set of values and perspectives on life.
Thus, Jewish spiritual parenting is about intentionally acting so that our children and families embrace a connection, infused with Jewish values, that nurtures their sense of peace and wholeness.