Along with the books I read of my own choosing, I also read the required books that are assigned to Ben. I started doing this when we first noticed he was struggling with reading way back in elementary school. Some of the titles are ones I'd read long ago, but most of them are new to me. Some are titles I never got around to reading; most are either books that were published after I graduated or ones that were unfamiliar to me. While some parents might find it burdensome, Ben is lucky; I love to read. Not only do I welcome the opportunity to be exposed to a new author or new subject matter, I absolutely love the conversations that Ben and I have as a result of my teaching the book to him.
And that is how I found myself reading John Hersey's Hiroshima this week.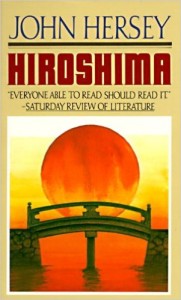 Some may recall reading this in its original form; it was printed in its entirety in the August 31, 1946 issue of The New Yorker. That unprecedented decision has never been repeated. Not long after, it was published as a book.
John Hersey was a Pulitzer Prize-winning novelist who began as journalist and war correspondent. He traveled to Hiroshima one year after the bombing and interviewed dozens of witnesses. Ultimately, the 31,000 words focused on six of the survivors.
It is an easy read — insofar as Hersey's writing style is plain and straightforward. That approach garnered not a little criticism from critics. Hersey maintained, both at the time and throughout the rest of his life, that his plain style was a deliberate choice. He felt that the detachment was necessary in order to present the witness accounts to the reader in the most factual manner. He did not want emotion to somehow draw him into the story.
And yet — the graphic descriptions of the aftermath that befell the people of Hiroshima seventy years ago, and Nagasaki just a few days later, are disturbing. As they should be. The decision of unleash the unprecedented power of the atomic bomb was, as eyewitnesses have documented, a difficult and painful one for President Truman. One that haunted him all of his days. And for good reason. Of the 245,000 people in Hiroshima on the morning of August 6, 1945, 100,000 died during and immediately after the blast. Radiation impacted both the ecological balance as well as wreaked havoc on the biological systems of the survivors. Not to mention the life-altering disfigurement and injuries.
What amazed me, however, was the response of the Japanese people. They blamed not the Americans, but their own government. Whom they believed would have driven the country into annihilation rather than surrender to the Allies. It took an action of such enormous magnitude to bring about the end of the war.
It's a short book, and a quick read. But the stories will remain with me for a long time.
{ 0 comments }