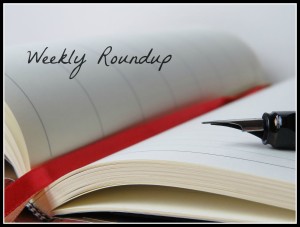 The note reads: Make sure Mrs. Barkawi teaches about "Evian Conference" pg 307.
I had never heard of the Evian Conference until I was at the Alexander Muss High School in Israel during my junior year of high school. It was then that I learned that the world had had the opportunity to prevent the slaughter of European Jewry. Instead, they did nothing.
The Evian Conference was organized by FDR and was held in Evian-Les-Bains, France in July 1938. Dipolmatic representatives from the following countries, "Nations of Asylum," were in attendance:
Argentina
Australia
Belguim
Bolivia
Brazil
Canada
Chile
Columbia
Costa Rica
Cuba
Denmark
Dominican Republic
Ecuador
France
Guatemala
Haiti
Hondurus
Ireland
Mexico
Netherlands
New Zealand
Nicaragua
Norway
Panama
Paraguay
Peru
Sweden
Switzerland
United Kingdom
United States
Uruguay
Venezuela
Two countries refused the invitation: Italy and South Africa. South Africa did, however, send an observer to the proceedings.
Reporters from 32 countries, emissaries from more than three dozen refugee/relief organizations, and a group of Nazis were also in attendance. The Nazis hadn't been invited, but since no one knew quite what to do with them, they just let them stay.
The United States spoke first; what they had to say set the tone for the entire conference and sealed the fate of six million Jews. The United States announced that it was unable to alter its quota system. Most of the other countries followed suit.
Canada, Colombia, Uruguay, Venezuela: Would only accept experienced agricultural workers.
Brazil: enacted a new law just prior to attending the conference requiring every visa application to be accompanied by a certificate of baptism.
Australia: "As we have no real racial problems, we are not desirous of importing one."
Britain: concerned that an influx of German-Jewish refugees would "arouse anti-Semitic feeling in Great Britain."
France: felt that after taking in 200,000 Jews, it had reached a "saturation point."
Nicaragua, Costa Rica, Honduras: classified all intellectuals (doctors, lawyers, professors) and merchants as "undesirables."
Switzerland: having already been "inundated" with Jewish refugees after the fall of Austria (3,000-4,000 Austrian-Jews), the delegate stated that "Switzerland, which has as little use for these Jews as has Germany, will herself take measures to protect Switzerland from being swamped by Jews with the connivance of the Viennese police."
So much for neutrality.
Three tiny countries, Denmark, Holland, and the Dominican Republic, did allow their gates to be opened for the refugees. But the message had already been sent to the Third Reich.
Four months later, Kristallnacht.
This was nearly 80 years ago.
And it was this past week.
The civil unrest in Syria has created a refugee situation not unlike the one during and leading up to the Second World War.
They're not Jews this time, however. They are Muslims.
Sure, some of the rhetoric seems familiar.
The Czech Republic and Slovakia, which oppose an EU-wide quota on accepting refugees, have proposed creating a rail corridor linking Hungary to Germany.
Australia has simply closed its borders.
And yes, someone in the Czech Republic thought it was a good idea to write numbers on the arms of arriving refugees, as they stepped off the trains in order to prevent families of being separated. (Sounds like a euphemism to me.)
Unlike back in 1938, however, the other countries seem to recognize their responsibility in helping people in crisis.
Germany, who seems to have learned from its past, is leading the way in providing sanctuary for the refugees. Iceland, Canada, Denmark. They are right there with them. Even Prime Minister David Cameron changed his stance just this morning, due to public pressure, and has pledged that Great Britain will accept thousands of refugees.
Yes, this is a complicated issue. For many reasons. But we well know what happens when the world slams shut its gate.
*
The High Holy Days are just over a week away.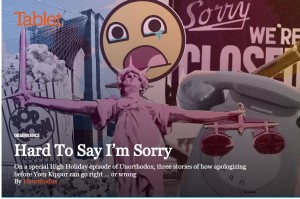 Though we tend to think of Yom Kippur as the Day of Atonement, it would be misleading to believe that one can simply show up on that day and complete the entire process in one day. That would be like deciding to run a marathon and just showing up the day of the race and giving it your best shot. [BTW, having completed both a full and a half marathon, I am completely qualified to make this analogy.]
Fortunately, the good folks over at Tablet Magazine have a new podcast called Unorthodox. And this week's episode is all about apologies. How to make them. How not to make them. Spend the 40-some-odd minutes and hear what they have to say. And start thinking about to whom you owe an apology this year.
*
Finally, I've got some advice about food over at Kveller.
Not just any food. But what to serve at a bris/baby naming. Even if you think you know what to serve, I guarantee you'll learn something new.
*
Have a great Shabbat…see you on the flip-side.
{ 0 comments }