It is so very quiet here at Beit Schorr. All three kids are away at summer camp and it is very, very quiet.
Wonderful silence.
Yes, I miss my kids. In an abstract kind of way. Their imprint is still in every corner of our home. And I know that within moments of their return in a couple of weeks, it will seem as though they had never left.
This is our first summer with all three kids gone. The first with Jacob away as a camper. And he is the one we've wondered about the most. Is he enjoying himself? Is he happy? Is he loving camp?
His missives have been extremely brief. In his defense, he is only eight.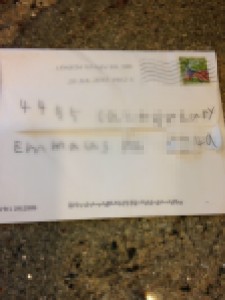 And I clearly forgot to school him in the appropriate way to address an envelope. (It got to us anyway.)
But the best one came today. In the form of a postcard. Or, rather, two postcards.
Jacob said that he missed us.
Lilly also misses us. And wants us to "send stuff."
But the best line. At the very bottom of her postcard.
"Jacob is having fun."
An unsolicited observation from a big sister.
#priceless
{ 3 comments }