Once upon a time, there was a little girl. And she had a tante who told her the most marvelous bedtime story. All the time.
(It probably wasn't all the time, but this is how the little girl remembers it and it's her truth.)
The bedtime story wasn't of fairy princesses or fantastic adventures or teddy bear picnics; it was the story of Samson.
I don't know why the little girl's tante chose this particular Bible story. My guess is that the little girl wouldn't stop talking and wouldn't go to sleep and her tante was at her very wit's end. (I wasn't there, but I know this little girl very well…)
Several years pass. The little girl got older. But she always remembered Samson's story and how he got his strength from his hair. And when she was about nine, she decided that she too was not going to cut her hair. Not forever, like Samson was supposed to do. For a specific amount of time. And for a specific purpose.
In this week's Torah portion, Parashat Naso, we learn the terms of the Nazarite vow in Deuteronomy 6:1-21. Among the prohibitions of one who voluntarily takes on this vow is the cutting of hair. Though Nazarite practices are no longer common, the little girl was thrilled to discover that this was the Torah portion of the week that she would reach the age of Commandments — bat mitzvah. And the additional reading would be, in fact, the story of Samson, taken from the book of Judges.
And so the little girl, aged nine, announced that she would refrain from cutting her hair for four years and that her first act as a religiously-responsible Jewish adult would be to donate her hair to an organization that provides wigs free/low cost to those who have lost their hair due to cancer treatments.
Why four years? Surely her hair would be long enough to donate after just a couple of years.
"Mommy," said the little girl, "I'm not really a very giving person. I don't want to have very short hair after I donate the amount they require. But if I wait until I become a bat mitzvah, I can donate it and still have hair down to my shoulders."
(The little girl was nothing if not pragmatic.)
Four years passed. Suddenly, it was time.
May I find courage within myself and strength from God to fulfill my commitment.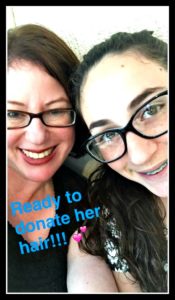 Barukh Atah Adonai Eloheinu Melekh HaOlam asher kid'shanu b'mitzvotav v'tzivanu lirdof tzedek.
Blessed are You, Eternal our God, who calls us to holiness through mitzvot and commands us to pursue justice.


Barukh Atah Adonai eloheinu Melekh HaOlam shehecheyanu v'kiy'manu v'higianu laz'man hazeh.
Blessed are You, Eternal Our God, who has kept us alive, who has sustained us, and who has brought us to this amazing moment.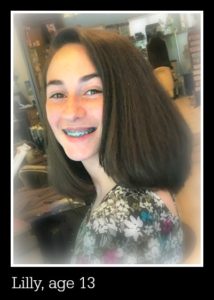 And with that, the little girl is now a young woman. Released from her vow, her sacred commitment.
May she go from strength to strength.