The 4-1-1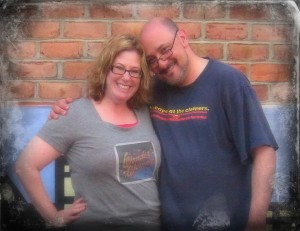 This former career-driven mother of three became a reluctant stay-at-home-mom when her autistic son and his two adorable sidekicks needed more from her. Formerly known for her popular blog, Frume Sarah's World, Rebecca Einstein Schorr has embraced the challenge of stepping off the rabbinic pulpit and into the kitchen – some say for the very first time. The transformation from a religious community leader to what her kids call a "house-mother" has been nothing short of life-altering.
When she's not channeling all of the energy into her duties as chief [read: only] scullery maid or under-appreciated chauffeur, Rebecca writes about the meaning in all the messy parts of her simpler, but not less complicated, life here on her personal blog and various sites including Tablet, The Christian Science Monitor, The Sun, The Jewish Daily Forward, Scary Mommy, and more. She is a Contributing Writer for Kveller.com (parenting site) and The New Normal: Blogging Disability (The Jewish Week), editor of the 2016 National Jewish Book Award-winning anthology, The Sacred Calling: Four Decades of Women in the Rabbinate, and is the former editor of the newsletter for the Central Conference of American Rabbis — a trade publication that reaches more than 1,800 liberal rabbis across North America and abroad.
With more than a decade of writing experience, she's written everything from motivational pieces about goal setting to the hunting methods of polar bears. No topic is beyond her mad research skills.