She Sings Too?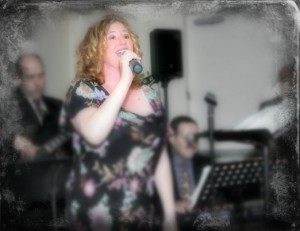 In addition to being a writer, Rebecca Schorr is a rabbi who sings. Whether chanting Torah, leading the congregation in prayer, or concertizing, the music is enhanced by Rebecca's spirit and dynamic personality.
Reared in Orange County, CA, it was clear early on that music was the voice of Rebecca's soul. Even before she pursued a Bachelor of Music in Voice at the Ithaca College School of Music, Rebecca had been in every available choir she could find and performed both in Los Angeles and in Orange County. Yes, Rebecca's parents allowed her — encouraged her — to earn what many called a useless degree. Yet instead of asking, "do you want fries with that?" she uses the skills she learned while serving as one of the rabbis at Congregation B'nai Tzedek in Fountain Valley, CA or conducting services and life-cycle events at Congregation Keneseth Israel in Allentown, PA.
Under the baton of many, including Gisele Ben-Dor, Eiji Oue, and Carl St. Clair, Rebecca has performed at venues across the country including the Orange Country Performing Arts Center and Avery Fisher Hall at Lincoln Center.
Rebecca's solo album, Soul's Delight, was released in December 2010 to enthusiastic response. Joined by the Shabbatones and special guest, Rabbi Stephen J. Einstein, Rebecca shares a mixture of beloved and new pieces by a variety of composers.
More information can be found here: www.rebeccaschorr.com
or
Take a listen here: CD Baby