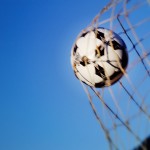 Come on…make it a shut-out!!
The fans were growing restless. The score was 9-0 with only a few minutes remaining
Shut them out — Shut them out — Shut them out!
And then…as if propelled by some mythical force, a forward snatched the ball and ran it down the field and scored.
Great. Just great. Could have been a shut-out til ya let that punk get the ball.
Did I mention that this was at my son's soccer game on Sunday? The U5 game. Meaning…these kids are under 5 or turned 5 since February. And these were the comments of some dad, from the opposing team, who seemed as though he was in danger of bursting a vessel the way he was yelling?
The game was not a shut-out. But it didn't matter. Or, rather, it shouldn't matter. These are little kids. Running around the field. Sometimes even in the correct direction.
At the conclusion of the "tournament," there was a pizza party and award ceremony. Not a formal ceremony, thank God. Because these are just little kids. And it shouldn't be about awards. In fact, I wanted to skip out on the last part because I have a real problem with giving medals to kids who did nothing more than show up. To an activity to which they had committed.
Did I miss the memo? Since when do we reward the basic expected behaviour in our kids?