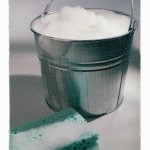 The theme in Kindergarten this week is family.
So the teacher asked all of the children to say what their mothers do.
Jacob reported that his mother works at home.
And when he told me this I thought, "hooray. My kids see my writing as legitimate work."
Except he then clarified for his class.
"She cleans."
So instead of thinking that I'm a rabbi or a writer, twenty-five kindergartners think that I am a cleaning lady.
And if that wasn't enough to chip away at my flagging sense of self-worth, Benjamin expressed his concern that my presentation at his school next week (at his teacher's request to teach a unit on Judaism during the Middle Ages) will be boring and thereby cause him great embarrassment.
Fantastic.