Two weeks ago, Ben was safely delivered to camp by Warren with very little fanfare. It was, according to Warren, a very calm and successful experience. Ben is still there AND is having a fantastic time.
We think.
Because in the past fortnight, we have not heard one single word from him.
Not a letter. Or a postcard. A carrier pigeon or even a puff of smoke from a smoke signal.
Nothing.
Nada.
Zilch.
Efes.
On the one hand, the camp should make every kid sit and send some form of communication.
On the other hand, as my friend Tevye is wont to say, isn't my curiosity about how he is doing being met some other way? And if so, why should this poor kid be forced to put pen to paper?
Each day, when I return empty-handed from the mail box, Lilly makes the following announcement:
Ben must be having such a great time and so much fun that he is too busy to write.
The photographs that are posted daily are proof of this. I scan the pictures with the same concentration I once used when reading love letters from Warren. Looking at each gesture, facial expression, experience. Trying to extract the emotions from the two dimensional image.
And what I see is someone who bears a strong physical resemblance to my son. Only this one is smiling. All the time. No traces of his typical anxiety appear on his face. And doing things that I have never thought he would attempt. In-line skating???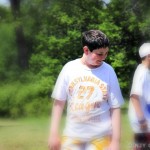 Would I like a letter from him? Sure. But if nothing arrives in the next two weeks, I really am OK with that too. As long as I can continue to watch from afar.