Sitting on my bookshelf, glaring at me, was a book that I was sent to review. Glaring because it was several books down in my never-shrinking pile. And then glaring at me when it reached the front of the queue because I didn't rush to start it upon finishing what was ahead of it.
Why? For the following misguided reasons:
it's a Holocaust story — and who needs another one of those?

and

it's about cycling — and why would I want to read about cycling?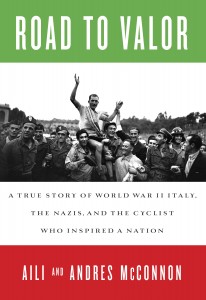 Road to Valor, by Aili and Andres McConnon, is not a Holocaust story in the traditional sense. The story of famed cyclist, Gino Bartali, would not be complete without some focus on his involvement in saving Jewish lives during the Nazi-occupation of Italy. But to say that this is a Holocaust book is misleading as only three chapters are devoted to Bartali's life-saving activities. His defiance is just part of the story.
I am by no means a cycling fan. At least, I had virtually no interest in it prior to reading this book. My sum total of cycling knowledge could, as my grandmother, z"l, would say, fit in a thimble. I knew that the Tour de France is a big deal and that a yellow jersey was involved. Which is to say — I didn't know anything.
Now I know much more. And while one might argue that my life was perfectly fine without such knowledge, the fact is that one's life can always be just a little more complete. We are meant to continually learn more. Think more. Be more. And knowledge can be acquired through both life experience and the experience of others.
We need stories like Gino Bartali's. We need them because we need to be reminded that there are those who have been willing to risk their lives for others. There are those who use their fame for the benefit of others. There are those who are flawed individuals but do not allow their flaws to define them. We need these stories because we need to keep believing that our actions — our good deeds — will live long after we are gone. As Gino Bartali taught his son:
If you're good at a sport, they attach the medals to your shirts and then they shine in some museum. That which is earned by doing good deeds is attached to the soul and shines elsewhere.
**********************
The very nice folks over at Random House have provided me with an additional copy of Road to Valor for one lucky reader. To be entered, please leave a comment about a book that you were surprised to find that you liked. Oh…and let's pick a winner on Thursday, 19 July, 12:01am. Good luck!